FAFSA Parent Night on November 4th!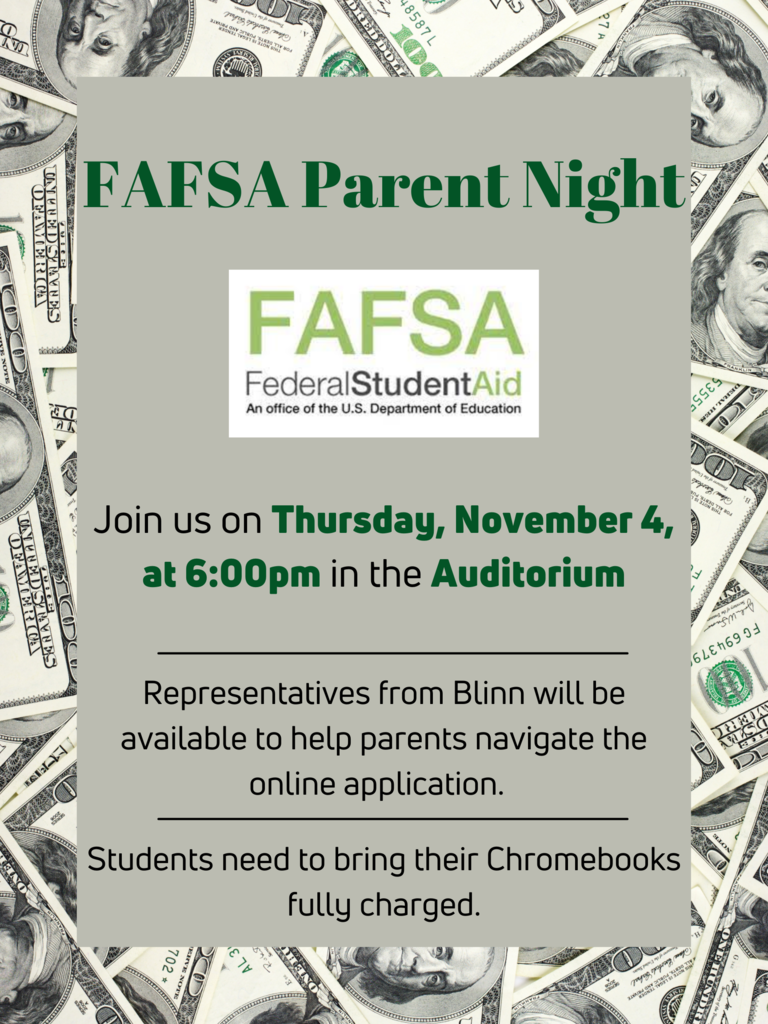 Join us for a watch party to congratulate the Burton FFA Livestock Judging Team at the Burton Ag Shop at 5:00 pm, today, October 28, 2021! They competed at the National Convention & will be honored during a livestream.
https://convention.ffa.org/2021-convention-streaming/

There are still a few days left of early voting. Avoid the lines and head to BHS Auditorium. Find a time that works for you and let your voice be heard.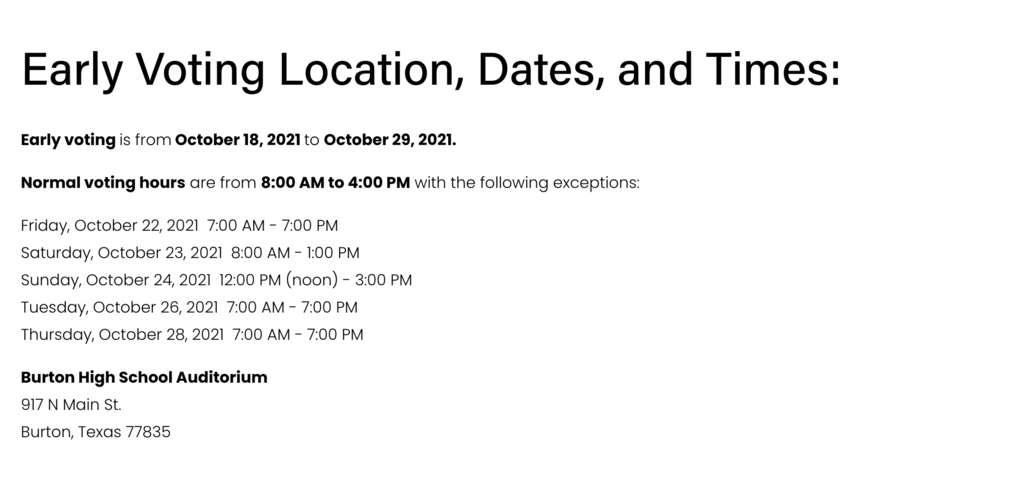 Dress up for this Friday!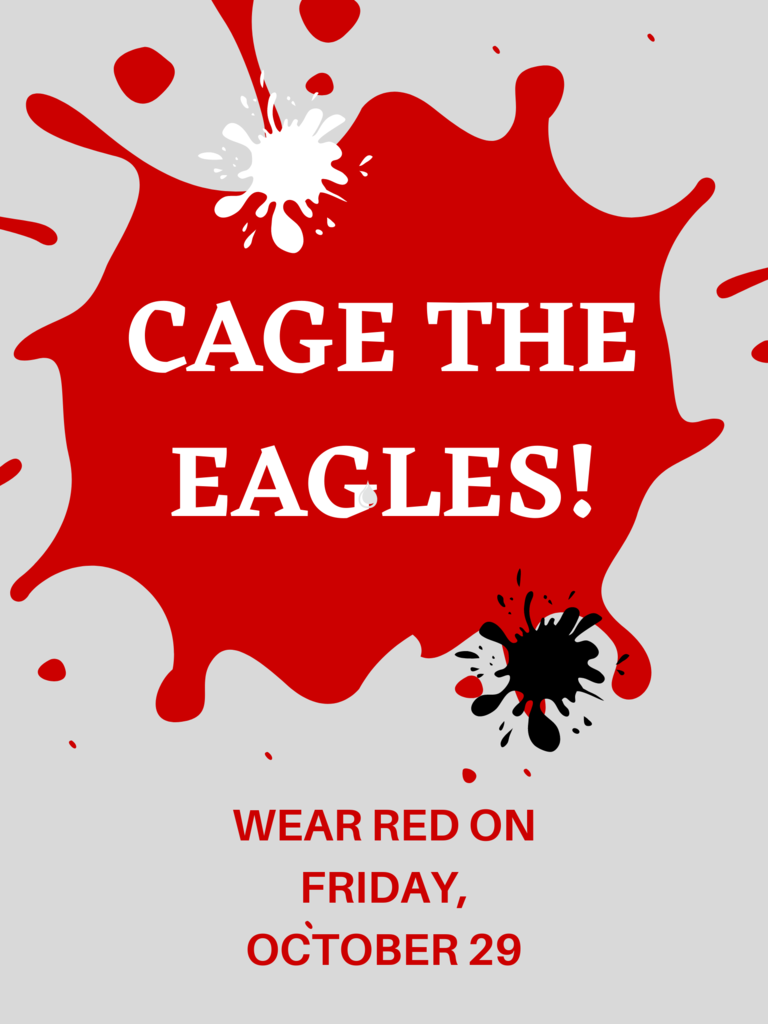 The last bond passed by Burton ISD was 13 years ago, which funded the building of a new elementary school and gym, bus barn and the Ag Building.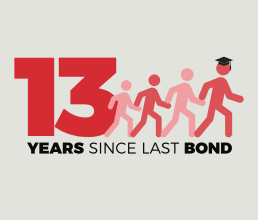 Looking for some Halloween Fun? Try these options!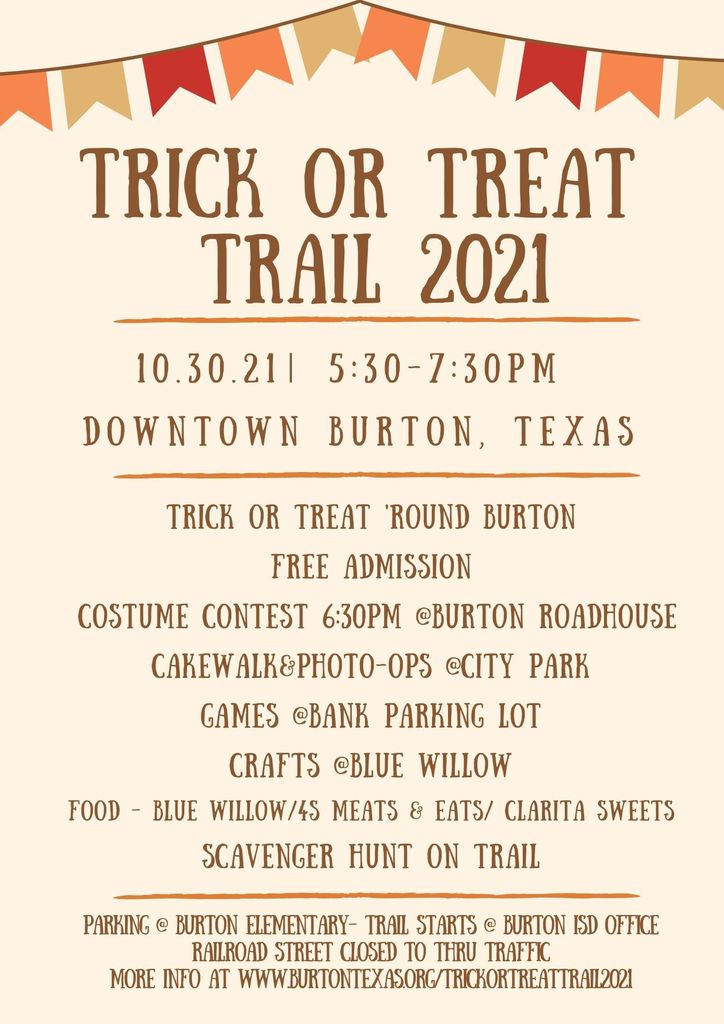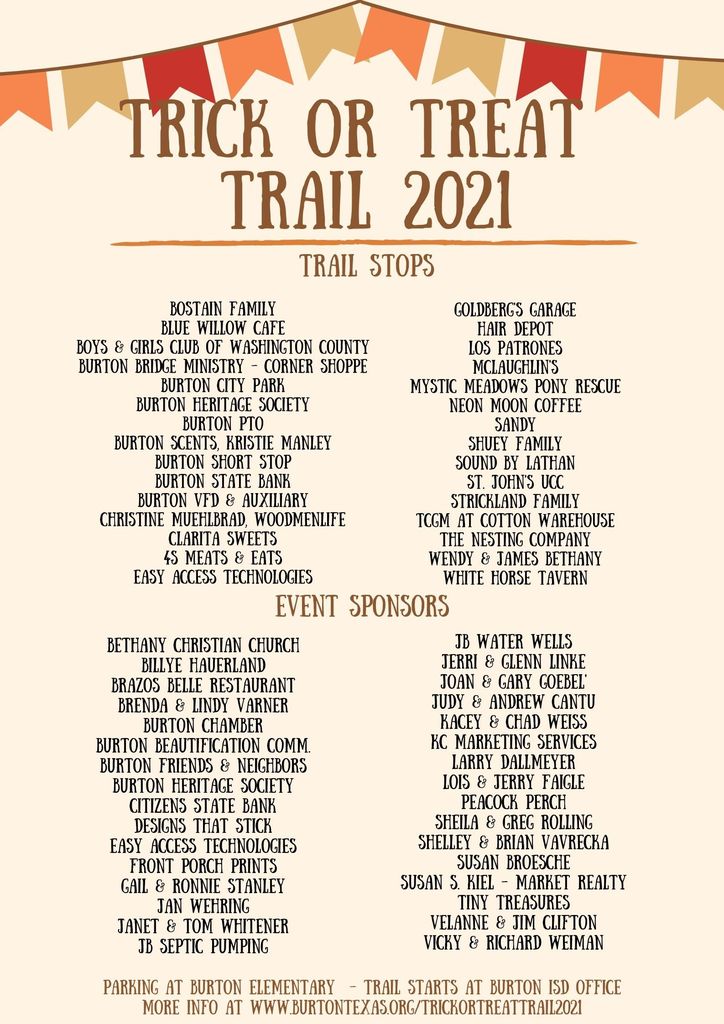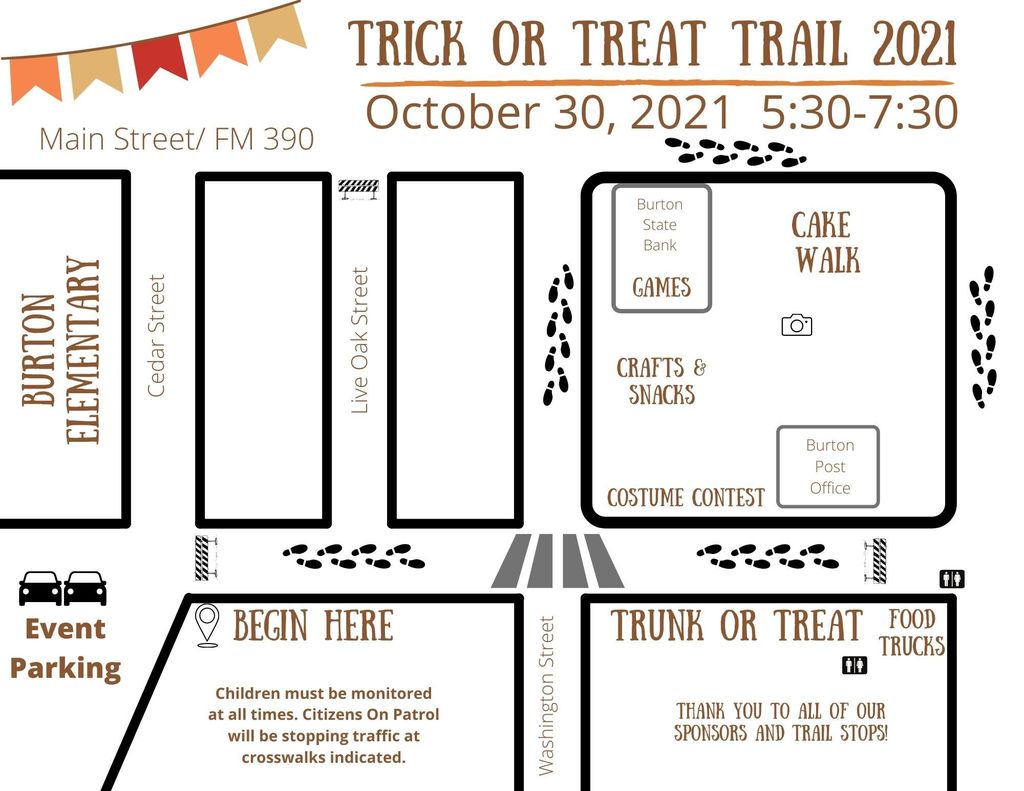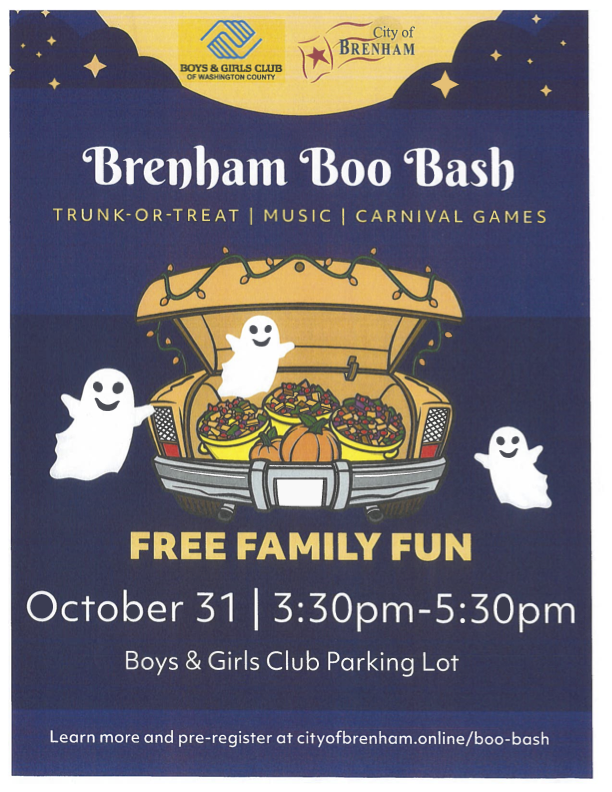 "The most significant Burton ISD bond projects will address: 🔒Safety and Security Updates 🏫 Burton High School Expansion 🎻 Fine Arts 🏈 Athletics ⚙️Junior High Expansion 🍴Cafeteria and Kitchen Renovation"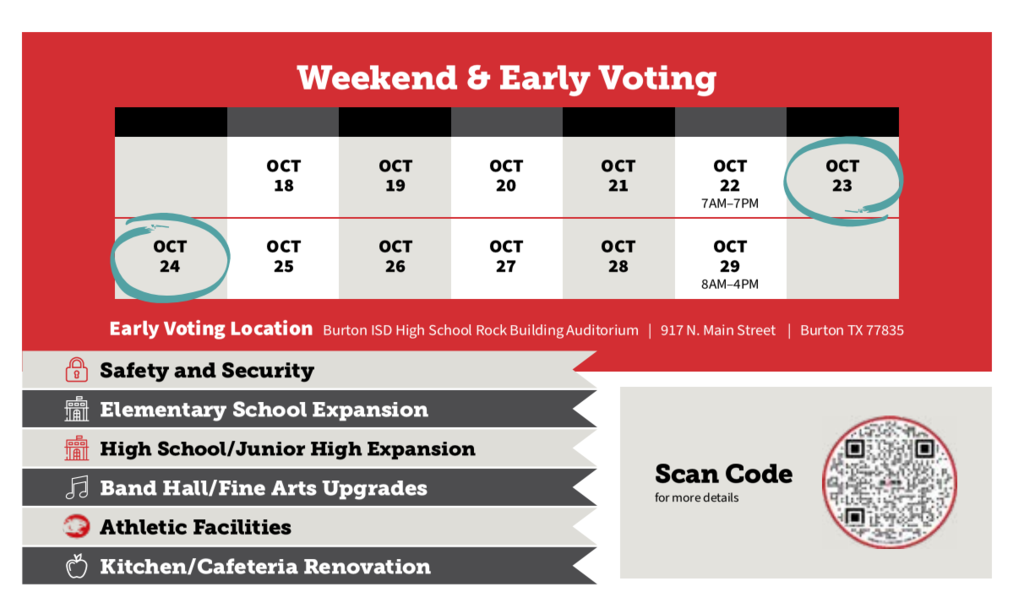 Nurse Anna teaching First Grade about having healthy Teeth and gums!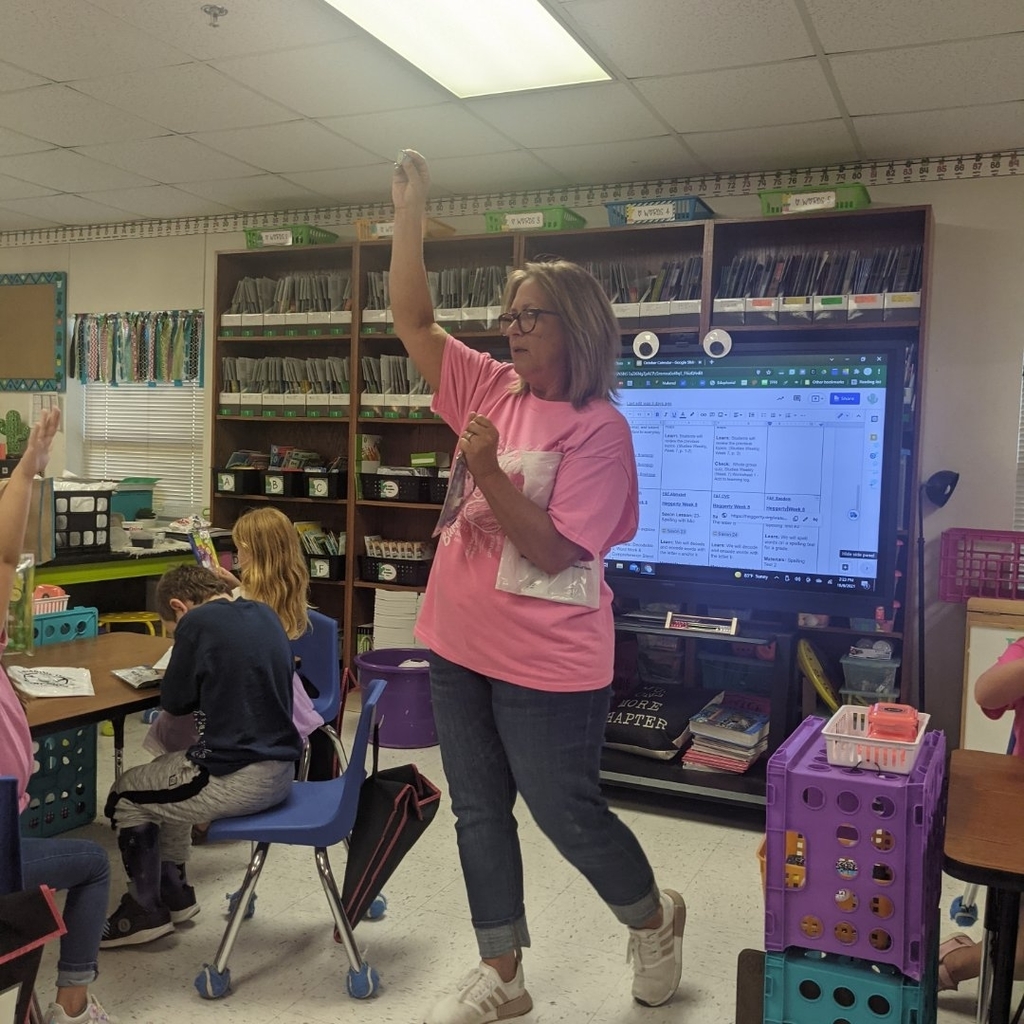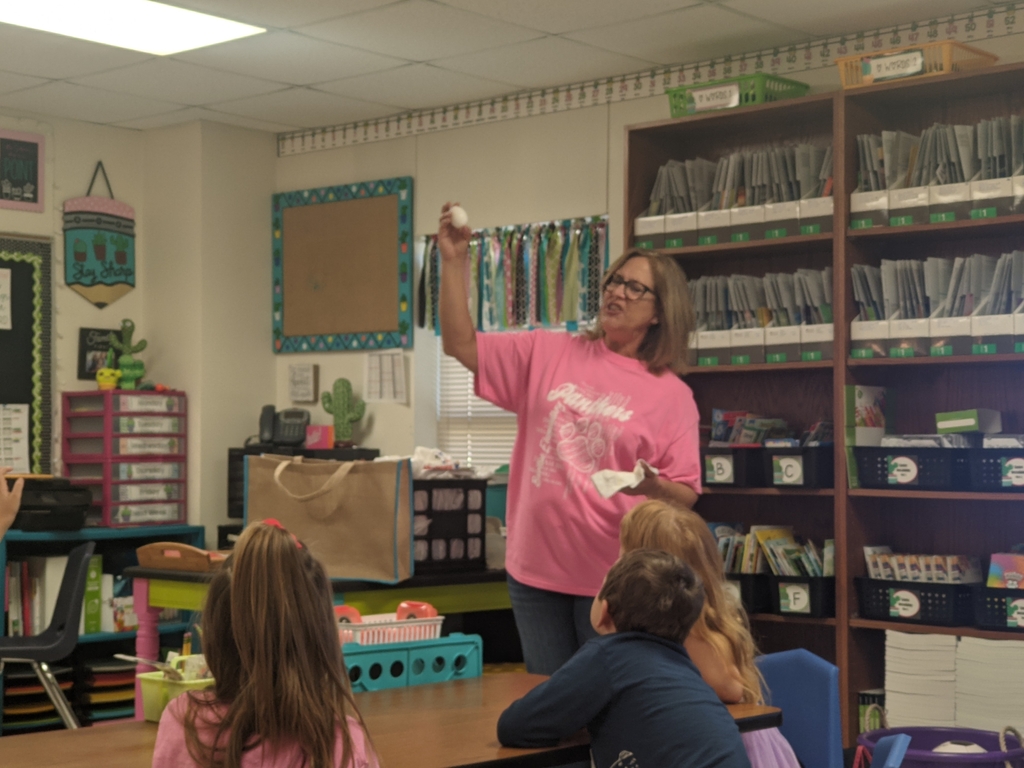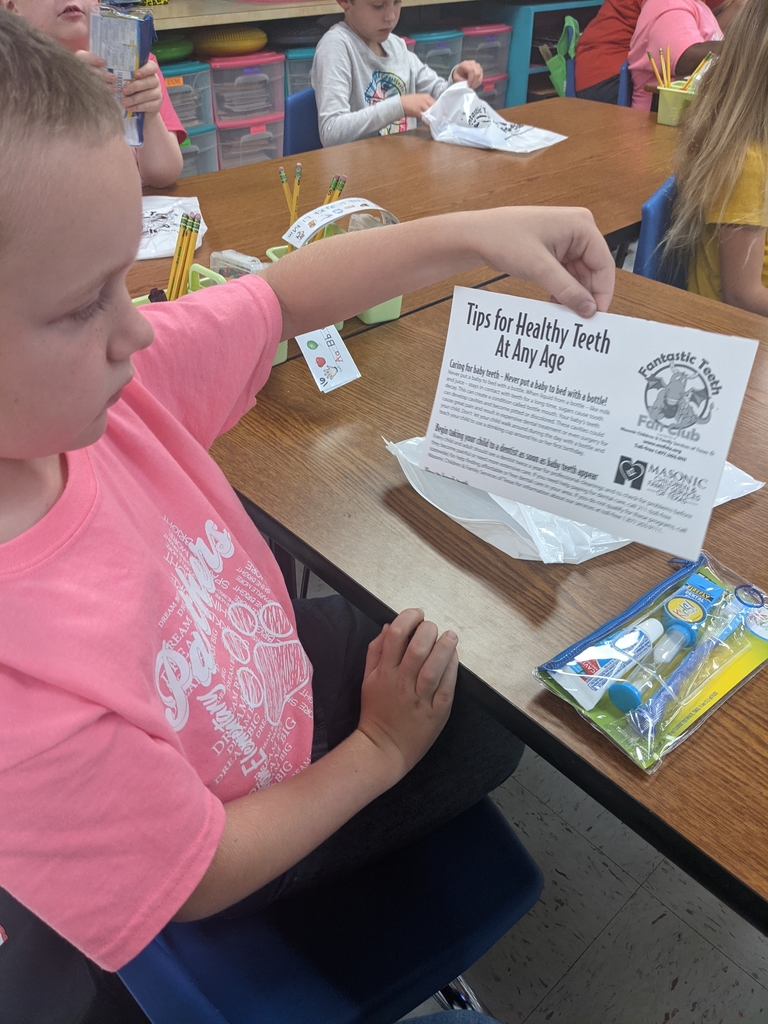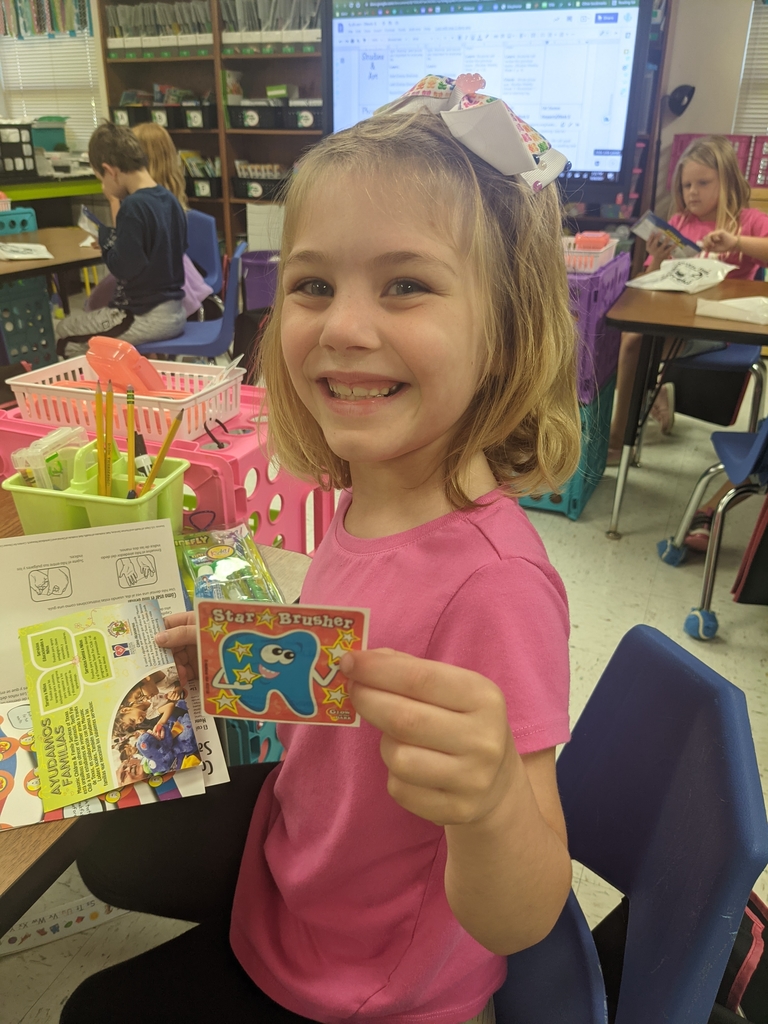 On October 16, the Burton Panther Band participated in the UIL Region 18/26 Marching Band Contest in Giddings. The band earned a 2nd division "excellent" rating.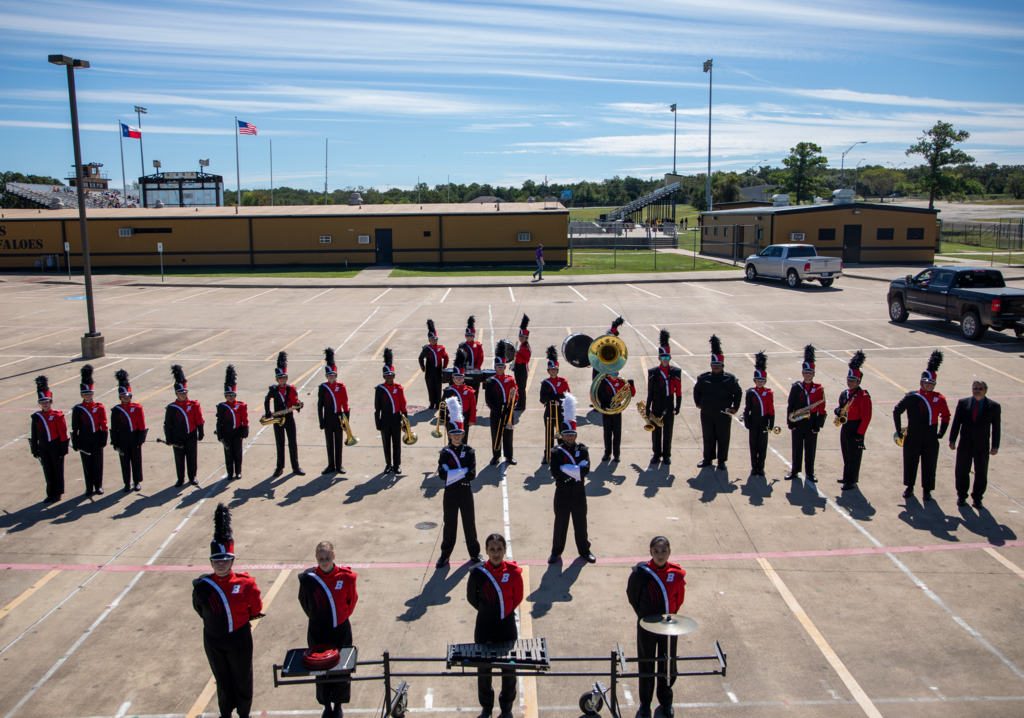 Nurse Anna teaching First Grade about having healthy Teeth and gums!


Survivor Saturday Saturday, November 13 9-1 p.m. Bring your backpack & Charged Chromebook for a day of lessons, games, & prizes! Lunch will be served.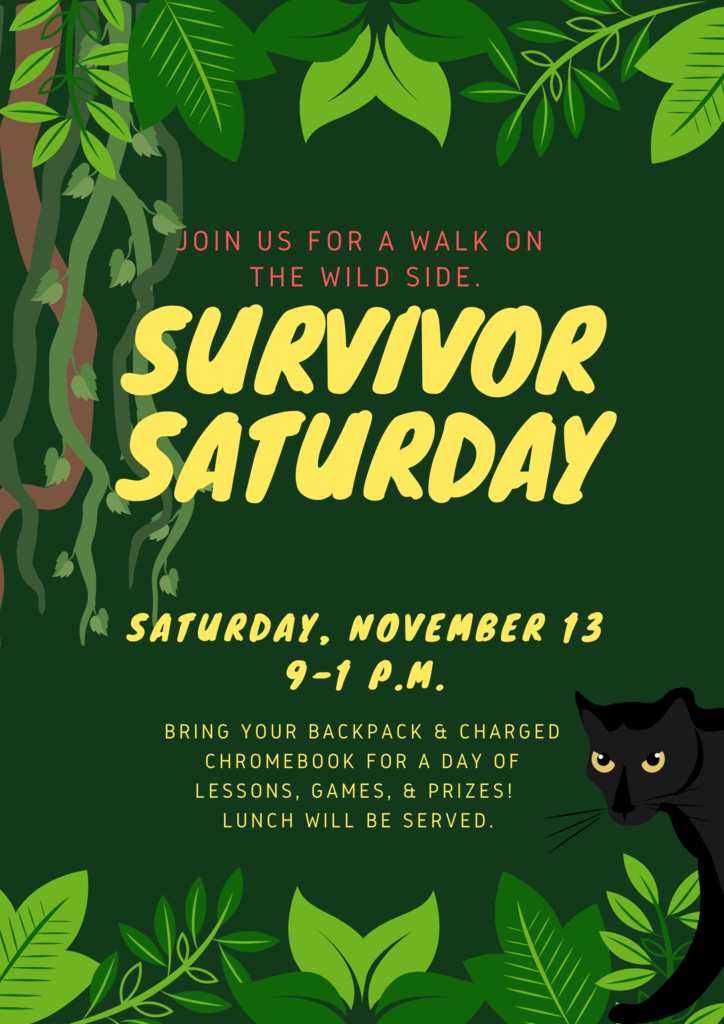 Ready. Set. Vote! Early voting is from Oct. 18-29. The polls are officially open! Grab your Driver's License and head to a polling location. #GoVote #VoteEarly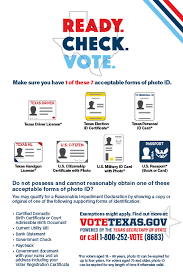 The BISD Board of Trustees created the Facility Advisory Committee, made up of 32 diverse community members representing all areas of the District, to study and prioritize the District's most critical needs. This proposal is by the community, for the community.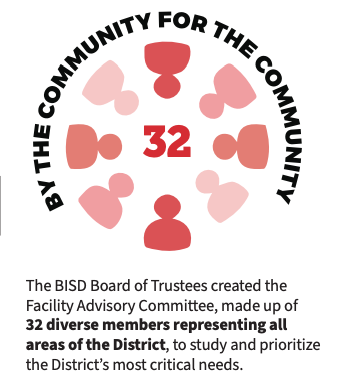 The bond proposal creates more seats for elementary, junior high & high school students. It includes new construction & upgrades for the high school, junior high school, athletics, fine arts & the kitchen/cafeteria which will impact every student at BISD over their career.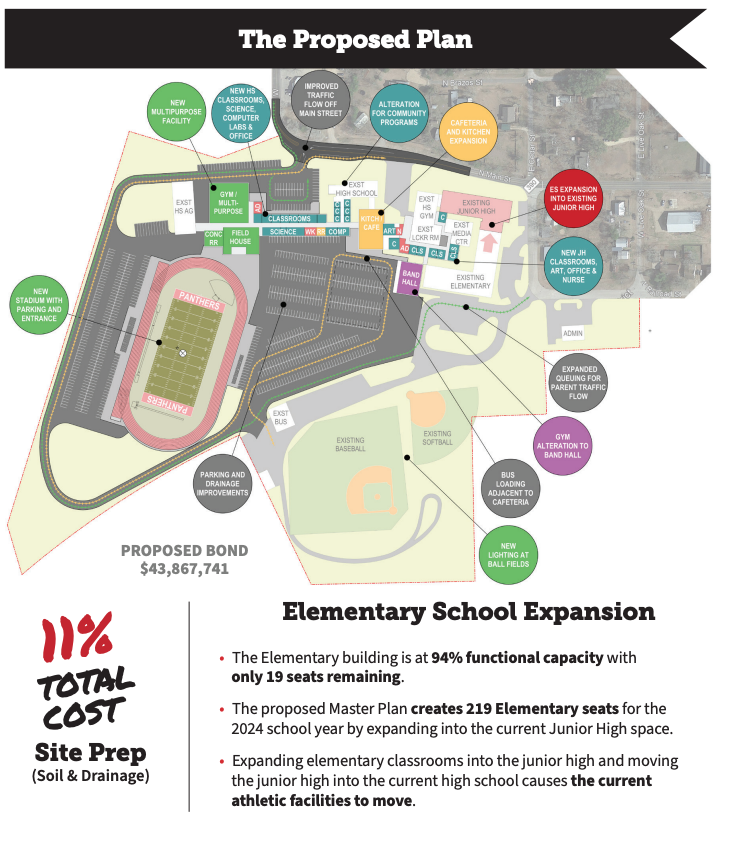 Coming soon to the Burton ISD Website - Herff Jones will have a link to all graduation products and the ability to pay outstanding balances. FAFSA Night - November 4, 2021 @6:00 p.m. Bring your charged Chromebook Parent Scholarship Meeting November 18, 2021 @6:00 p.m.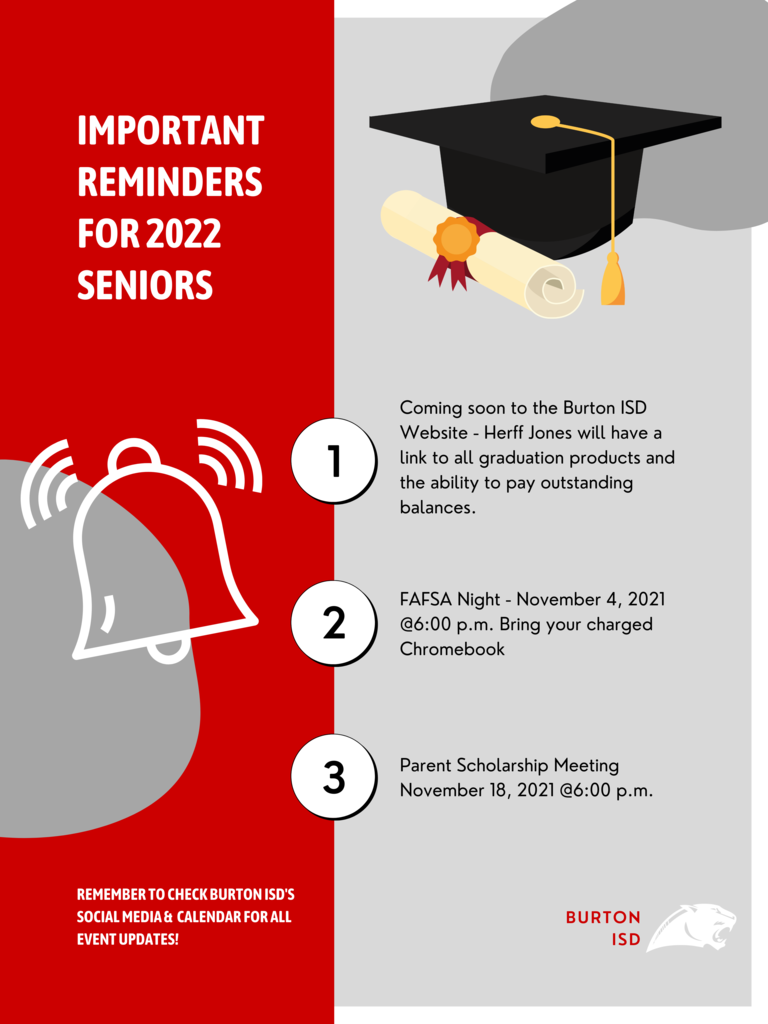 Dress up for Homecoming!

Save time and vote early. Your voice matters. Polls are open from 8am-4pm at BHS Auditorium! #GoVote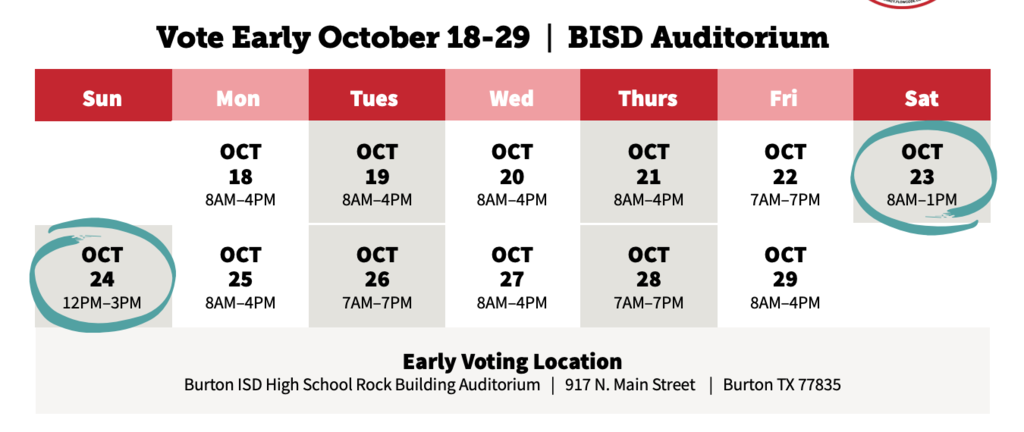 Reminder...don't forget :)